Welcome to OregonARMA.org

The Oregon Chapter of ARMA provides quality educational programs and is open to all who wish to learn more about information governance and records management.
Chapter Meetings are held every 2nd Tuesday of the month, September through May.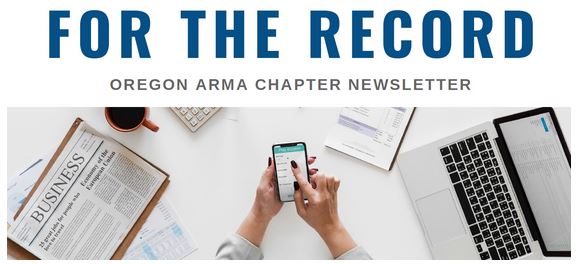 Check out the September Newsletter here:  September 2020

Highlights include:
Meet the new board of directors

September Meeting Cancelled

Upcoming Meeting information

New!  MEME of the MONTH!
The City of Oregon City has a great opportunity for a detail-oriented ROCK STAR to support the City Recorder's Office as Assistant City Recorder with a focus on records management.  Looking for a friendly, confident, and engaging individual who is a team player and likes to think outside the box for quick and effective solutions. This position is a hub for social interaction and will be frequently engaging with both internal and external customers. The Assistant City Recorder provides confidential administrative support and assistance to the City Recorder; the Mayor and Commission; the City Manager and Human Resources. The Assistant coordinates City Commission and Urban Renewal Agency agendas and meetings while ensuring compliance with laws governing public meetings, records, and elections. The Assistant manages the public records request program and information management. This position assists the City Recorder at Commission meetings and acts as City Recorder on a relief basis and performs related work as needed.
Records Management experience and a college degree are not required for this position; however, are preferred.
$4,828/mo. - $6,032/mo. plus excellent fringe benefits including City paid 6% PERS (Public Employees Retirement System) "pick-up".
This recruitment will close at 4:00 p.m. on Thursday September 17, 2020 OR when 75 applications have been received; whichever occurs first.

CLICK HERE for more information and to apply.

All links are to PDF files.


Current Newsletter:  May 2020