Welcome to OregonARMA.org

The Oregon Chapter of ARMA provides quality educational programs and is open to all who wish to learn more about information governance and records management.
Chapter Meetings are held every 2nd Tuesday of the month, September through May.
Oregon ARMA Chapter members, in lieu of a chapter meeting for May, we would like to highlight an amazing event hosted by the Great Northwest Region.  See below for more details.


ARMA GNW Region one-day Virtual Conference

ARMA International Great Northwest Region is attaching the one day conference agenda and speakers information. Conference will be held on Friday, May 13, from 9:00 am. to 3:00 p.m. ICRM credit will be sought out by the GNW Region and you can request IGP credit with certification of attendance.    
To register for this free virtual one day conference make sure to visit the Great Northwest Region Website. Or, go directly to the May 13, GNW Region Registration Form.  
Please check the link with the job postings, there are some interesting roles out there if one is interested.
Good luck!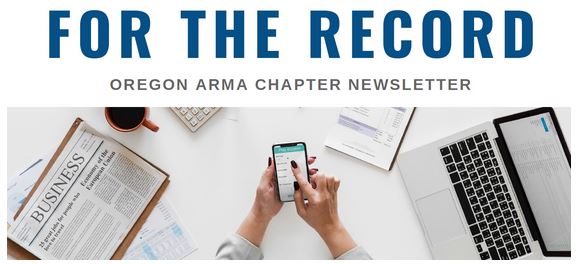 All links are to PDF files.


Current Newsletter:  March 2022